About Us
Rising Sun is a Chinese takeaway in Stockton-On-Tees. Why don't you try our Sweet & Sour or Thai Curry (Red)?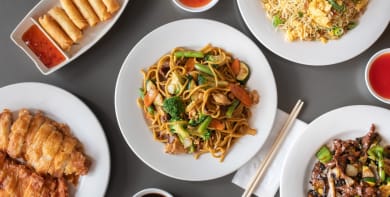 Reviews
339 reviews
stacey
"The food arrived hot and well within the time stated, was delicious, would definitely order again"
04/07/2020
Lauren
"Unreal food"
30/06/2020
Brian
"Every time we order from here, the food is excellent. Well cooked, soooo tasty, hot and delivered on time. Thank you!"
27/06/2020
Hilary
"It was the first time i have ordered food from here and it was delicious, will deffinitely be ordering from here again"
27/06/2020
Menu
Omelette Mixed Vegetables
£5.20
Crispy Noodle House Special
£7.20
Crispy Noodle Mixed Vegetables
£6.20
Roast Duck in Orange Sauce
£6.80
Roast Duck with Pineapple
£6.80
Roast Duck with Chinese Mushroom
£6.80
Roast Pork with BBQ Sauce
£6.40
Chicken with Mixed Vegetable
£6.40
Chicken with Garlic Sauce
£6.40
Crispy Shredded Chicken with Chilli
£6.30
Deep Fried Chicken with Chilli Honey Sauce
£6.30
Crispy Shredded Chicken with Peking Sauce
£6.30
Crispy Shredded Beef with Chilli
£6.40
Crispy Shredded Beef with Peking Sauce
£6.40
Beef with Chinese Mushroom
£6.40
Crispy Shredded Chicken with Chilli Honey Sauce
£6.30
Deep Fried Chicken with Chilli
£6.30
Green Pepper & Black Bean Sauce Chow Mein Chicken
£6.70
Green Pepper & Black Bean Sauce Chow Mein Beef
£6.70
Green Pepper & Black Bean Sauce Chow Mein Duck
£7.20
Green Pepper & Black Bean Sauce Chow Mein House Special
£7.20
Green Pepper & Black Bean Sauce Chow Mein King Prawn
£7.20
Green Pepper & Black Bean Sauce Chow Mein Pork
£6.80
Green Pepper & Black Bean Sauce Chow Mein Mixed Vegetables
£6.20
Green Pepper & Black Bean Sauce Chow Mein Mixed Seafood
£7.60
Thai Curry (Red) House Special
£6.70
Thai Curry (Red) King Prawn
£6.70
Thai Curry (Green) House Special
£6.70
Thai Curry (Green) Chicken
£6.20
Thai Curry (Green) King Prawn
£6.70
Bamboo Shoots & Water Chestnuts House Special
£6.70
Bamboo Shoots & Water Chestnuts Beef
£6.40
Bamboo Shoots & Water Chestnuts Mixed Seafood
£7.00
Bamboo Shoots & Water Chestnuts Squid
£6.70
Bamboo Shoots & Water Chestnuts King Prawn
£6.70
Bamboo Shoots & Water Chestnuts Roast Duck
£6.70
Bamboo Shoots & Water Chestnuts Lamb
£6.70
Bamboo Shoots & Water Chestnuts Chicken
£6.30
Bamboo Shoots & Water Chestnuts Roast Pork
£6.30
Bamboo Shoots & Water Chestnuts Mussels
£6.70
Deep Fried Chicken with Crispy Seaweed
£5.50
Deep Fried Pork with Crispy Seaweed
£5.50
Deep Fried Tofu with Crispy Seaweed
£5.20
Deep Fried Shredded Beef with Crispy Seaweed
£5.50
Deep Fried Shredded Chicken with Crispy Seaweed
£5.50
Deep Fried King Prawn with Crispy Seaweed
£5.80
Deep Fried House Special with Crispy Seaweed
£5.80
Deep Fried Squid with Crispy Seaweed
£5.70
Green Pepper & Black Bean Sauce House Special
£6.70
Green Pepper & Black Bean Sauce Beef
£6.40
Green Pepper & Black Bean Sauce Mixed Seafood
£7.00
Green Pepper & Black Bean Sauce Squid
£6.70
Green Pepper & Black Bean Sauce King Prawn
£6.70
Green Pepper & Black Bean Sauce Roast Duck
£6.70
Green Pepper & Black Bean Sauce Lamb
£6.70
Green Pepper & Black Bean Sauce Chicken
£6.20
Green Pepper & Black Bean Sauce Roast Pork
£6.20
Green Pepper & Black Bean Sauce Mussels
£6.70
Hoisin Sauce House Special
£6.70
Hoisin Sauce Mixed Seafood
£7.00
Vegetable Hot & Sour Soup
Crab Meat & Sweetcorn Soup
Sesame Prawn on Toast (6)
Woo Tip Grilled Meat Dumpling (6)
Chicken Wings with Honey Sauce
Crispy Mini Spring Rolls (8)
Barbecued Spare Ribs in Sauce
House Special Bamboo Shoot & Chestnut
House Special Bamboo Shoots & Water Chestnuts
House Special Beef Dishes
House Special Black Pepper Sauce Dishes
House Special Butter Dishes
House Special Cashew Nut Dishes
House Special Chicken Dishes
House Special Chilli & Garlic
House Special Chilli & Garlic Sauce Dishes
House Special Chop Suey Dishes
House Special Curry Dishes
House Special Duck & Pork Dishes
House Special Egg Foo Yung
House Special Egg Foo Yung Dishes
House Special Ginger & Spring Onion
House Special Green Pepper
House Special Green Pepper in Black Bean Sauce Dishes
House Special Hoi Sin Sauce
House Special Hoisin Sauce Dishes
House Special Kung Po Dishes
House Special Mushroom Dishes
House Special Oyster Sauce Dishes
House Special Peking Dishes
House Special Salt & Pepper
House Special Satay Sauce Dishes
House Special Sweet & Sour
House Special Sweet & Sour Dishes Hong Kong Style
House Special Szechuan Dishes
House Special Thai Curry Dishes
House Special Vegetable Dishes
Lamb Bamboo Shoot & Chestnut
Lamb Ginger & Spring Onion
King Prawn Bamboo Shoot & Chestnut
King Prawn Chilli & Garlic
King Prawn Ginger & Spring Onion
Mixed Meat Bamboo Shoot & Chestnut
Mixed Meat Chilli & Garlic
Mixed Meat Ginger & Spring Onion
Barbecued Spare Ribs in Sauce
Barbecued Spare Ribs in Sauce
Barbecued Ribs (2)
Prawn on Toast (2)*BBQ Ribs (2)*Spring Rolls (2)
Beef Bamboo Shoot & Chestnut
Beef Ginger & Spring Onion
Chicken Bamboo Shoot & Chestnut
Chicken Ginger & Spring Onion
Chicken Wings with Honey Sauce
Chicken Wings with Honey Sauce
Chicken Mushroom & Noodle Soup
Chicken Mushroom & Noodle Soup
Deep Fried Crispy Crab Claws (4)
Deep Fried Crispy Crab Claws (4)
Deep Fried Crispy Won Ton (10)
Deep Fried Crispy Won Ton (10)
Crispy Mini Spring Rolls (8)
Crab Meat & Sweetcorn Soup
Crispy Mini Spring Rolls (8)
Crab Meat & Sweetcorn Soup
Sui Mei
Pork & prawn dumpling (6)
Sui Mei
Pork & prawn dumpling (6)
Spring Rolls (2)
Prawn on Toast (2)*BBQ Ribs (2)*Spring Rolls (2)
Sauce Green Pepper in Black Bean
Sesame Prawn on Toast (6)
Sesame Prawn on Toast (6)
Soup Chicken Mushroom
Chicken Noodle*Chicken Sweetcorn*Chicken Mushroom
Soup Chicken Noodle
Chicken Noodle*Chicken Sweetcorn*Chicken Mushroom
Soup Chicken Sweetcorn
Chicken Noodle*Chicken Sweetcorn*Chicken Mushroom
Vegetable Bamboo Shoot & Chestnut
Vegetable Chilli & Garlic
Vegetable Ginger & Spring Onion
Woo Tip Grilled Meat Dumpling (6)
Woo Tip Grilled Meat Dumpling (6)
Vegetable Hot & Sour Soup
Vegetable Hot & Sour Soup
Satay Chicken on Skewers (4)
Satay Chicken on Skewers (4)
Prawn on Toast (2)
Prawn on Toast (2)*BBQ Ribs (2)*Spring Rolls (2)
Roast Duck in Orange Sauce
Roast Duck in Orange Sauce
Roast Duck with Pineapple
Roast Duck with Pineapple
Roast Duck with Pineapple
Roast Duck Bamboo Shoot & Chestnut
Roast Duck Chilli & Garlic
Roast Duck Ginger & Spring Onion
Pork Bamboo Shoots & Water Chestnuts
Pork Bamboo Shoots & Water Chestnuts
Pork Black Pepper Sauce Dishes
Pork Chilli & Garlic Sauce
Pork Chilli & Garlic Sauce Dishes
Pork Green Pepper in Black Bean Sauce
Pork Green Pepper in Black Bean Sauce Dishes
Pork Sweet & Sour Dishes Hong Kong Style
Pork Sweet & Sour Hong Kong Style
Roast Duck in Orange Sauce
Roast Duck with Pineapple
Rice Noodle Singapore (Hot)
£6.70
Rice Noodle House Special
£6.50
Egg Foo Yung House Special
£6.70
Egg Foo Yung Chicken & Ham
£6.30
Egg Foo Yung Mixed Vegetables
£5.20
Chicken, Mushroom & Noodle Soup
£2.60
Vegetable Hot & Sour Soup
£2.60
Crab Meat & Sweetcorn Soup
£2.60
Set Meal For 1 Duck
Soup:
Chicken noodle soup or chicken sweetcorn soup or chicken mushroom soup
Appetiser:
Prawn on toast (2) or barbecued ribs (2) or spring rolls (2)
Main course:
Chicken, beef or pork dishes
(Except fillet steak or sirloin steak)
(Served with egg fried rice OR crispy fried rice for extra £1.00
£10.50
Set Meal For 1 King Prawn
Soup:
Chicken noodle soup or chicken sweetcorn soup or chicken mushroom soup
Appetiser:
Prawn on toast (2) or barbecued ribs (2) or spring rolls (2)
Main course:
Chicken, beef or pork dishes
(Except fillet steak or sirloin steak)
(Served with egg fried rice OR crispy fried rice for extra £1.00
£10.50
Set Meal For 1 Mixed Meat
Soup:
Chicken noodle soup or chicken sweetcorn soup or chicken mushroom soup
Appetiser:
Prawn on toast (2) or barbecued ribs (2) or spring rolls (2)
Main course:
Chicken, beef or pork dishes
(Except fillet steak or sirloin steak)
(Served with egg fried rice OR crispy fried rice for extra £1.00
£10.50
Set Meal For 1 Regular
Soup:
Chicken noodle soup or chicken sweetcorn soup or chicken mushroom soup
Appetiser:
Prawn on toast (2) or barbecued ribs (2) or spring rolls (2)
Main course:
Chicken, beef or pork dishes
(Except fillet steak or sirloin steak)
(Served with egg fried rice OR crispy fried rice for extra £1.00
£9.50
Set Meal For 1 Special
Soup:
Chicken noodle soup or chicken sweetcorn soup or chicken mushroom soup
Appetiser:
Prawn on toast (2) or barbecued ribs (2) or spring rolls (2)
Main course:
Chicken, beef or pork dishes
(Except fillet steak or sirloin steak)
(Served with egg fried rice OR crispy fried rice for extra £1.00
£10.50
Set Meal For 2
Spring roll
Chicken sweetcorn soup
Deep fried Wonton (with sweet & sour sauce)
Shredded beef in chilli sauce
Sweet & sour chicken (Cantonese style)
Egg fried rice
Banana fritter
£19.00
Set Meal For 3
Spring roll
Deep fried Wonton (with sweet & sour sauce)
Chicken & sweetcorn soup
Shredded beef in chilli sauce
Sweet & sour chicken (Cantonese style)
King prawn with green pepper in black bean sauce
Egg fried rice
Banana fritter
£28.00
Set Meal For 4
Spring roll
Deep fried wonton (with sweet & sour sauce)
Chicken & sweetcorn soup
Quarter aromatic duck
Shredded beef in chilli sauce
Sweet & sour chicken (Cantonese style)
Kung po beef
King prawn with green pepper in black bean sauce
Egg fried rice
Banana fritter
£39.00
Stir Fried Mixed Vegetable
£5.40
Vegetable Chicken with Green Pepper
In black bean sauce
£5.80
Vegetable Duck with Broccoli
£6.30
Mixed Vegetable with Szechuan Sauce
£5.30
Mixed Vegetable in Oyster Sauce
£5.30
Mixed Vegetable Kung Po Sauce
£5.30
Mixed Vegetable Peking Sauce
£5.30
Mushroom with Green Pepper in Black Bean Sauce
£5.40
Bean Curd Choice of Sauce
With black pepper sauce, szechuan sauce, satay sauce, peking sauce, spicy sauce, green pepper in black bean sauce
£6.00
Grilled Liver
Served with mushroom & onion in gravy
£5.40
Mixed Grill Steak
Served with sausage, pork liver, bacon, mushroom, onion & peas in gravy
£7.50
Roast Chicken
Served with mushroom, onion & peas in gravy
£6.20
Roast Chicken, Bacon & Sausage
£6.70
Sirloin Steak
Served with onion & mushroom
£7.50
Sausage & Chips
Served with mushroom & onion in gravy
£5.00
Black Pepper Sauce House Special
£6.70
Black Pepper Sauce Mixed Seafood
£7.00
Black Pepper Sauce King Prawn
£6.70
Black Pepper Sauce Roast Duck
£6.70
Black Pepper Sauce Chicken
£6.20
Black Pepper Sauce Roast Pork
£6.20
Black Pepper Sauce Mussels
£6.70
Chow Mein Singapore (Hot)
£6.70
House Special Chow Mein
With king prawn, chicken, pork & beef
£6.50
Special Chow Mein
With chicken, pork & shrimp on top in BBQ sauce
£6.50
Deep Fried Chicken Battered Garlic
£5.50
Deep Fried Pork Battered Garlic
£5.50
Deep Fried Shredded Beef Battered Garlic
£5.60
Deep Fried Shredded Chicken Battered Garlic
£5.60
Deep Fried Tofu Battered Garlic
£5.20
King Prawn Battered Garlic
£6.00
House Special Battered Garlic
£6.00
Plain Chow Mein
No vegetable
£3.60
Plain Rice Noodles
No vegetable
£3.60
Egg Fried Rice with Mushroom & Onion
In any sauce
£4.10
Egg Fried Rice with Noodles in Any Sauce
£4.10
Fried Mushroom in Gravy Sauce
£2.90
Chips & Fried Rice in Any Sauce
£3.60
Chips with Mushroom & Onion in Any Sauce
£3.80
Fried Rice, Chips & Chicken Balls
£6.50
Fried Rice, Noodles & Chicken Balls
£6.70
Chilli & Garlic Sauce House Special
£6.70
Chilli & Garlic Sauce Beef
£6.40
Chilli & Garlic Sauce Mixed Seafood
£7.00
Chilli & Garlic Sauce Squid
£6.70
Chilli & Garlic Sauce King Prawn
£6.70
Chilli & Garlic Sauce Roast Duck
£6.70
Chilli & Garlic Sauce Lamb
£6.70
Chilli & Garlic Sauce Chicken
£6.20
Chilli & Garlic Sauce Roast Pork
£6.20
Chilli & Garlic Sauce Mussels
£6.70
Fried Rice Singapore (Hot)
£6.70
Fried Rice Mixed Vegetable
£5.50
House Special Fried Rice
With king prawn, chicken, pork & beef
£6.50
Special Fried Rice
With chicken, pork & shrimp on top in BBQ sauce
£6.50
Ginger & Spring Onion House Special
£6.70
Ginger & Spring Onion Beef
£6.40
Ginger & Spring Onion Mixed Seafood
£7.00
Ginger & Spring Onion Squid
£6.70
Ginger & Spring Onion King Prawn
£6.70
Ginger & Spring Onion Roast Duck
£6.70
Ginger & Spring Onion Lamb
£6.70
Ginger & Spring Onion Chicken
£6.20
Ginger & Spring Onion Roast Pork
£6.20
Ginger & Spring Onion Mussels
£6.70
Oyster Sauce House Special
£6.70
Oyster Sauce Mixed Seafood
£7.00
Sweet & Sour Chicken Balls
Chicken, pork, king prawn & house special balls - comes with pineapples, onion, green peppers
£6.30
Sweet & Sour Pork Balls
Chicken, pork, king prawn & house special balls - comes with pineapples, onion, green peppers
£6.30
Sweet & Sour Chicken
Chicken, pork, king prawn & house special balls - comes with pineapples, onion, green peppers
£6.30
Sweet & Sour Beef
Chicken, pork, king prawn & house special balls - comes with pineapples, onion, green peppers
£6.40
Sweet & Sour House Special
Chicken, pork, king prawn & house special balls - comes with pineapples, onion, green peppers
£6.70
Sweet & Sour King Prawn Balls
Chicken, pork, king prawn & house special balls - comes with pineapples, onion, green peppers
£6.70
Sweet & Sour House Special Balls
Chicken, pork, king prawn & house special balls - comes with pineapples, onion, green peppers
£6.70
Sweet & Sour King Prawn
Chicken, pork, king prawn & house special balls - comes with pineapples, onion, green peppers
£6.70
Sweet & Sour Duck
Chicken, pork, king prawn & house special balls - comes with pineapples, onion, green peppers
£6.70
Sweet & Sour Pork
Chicken, pork, king prawn & house special balls - comes with pineapples, onion, green peppers
£6.30
Sweet & Sour Mixed Vegetables
Chicken, pork, king prawn & house special balls - comes with pineapples, onion, green peppers
£5.20
Siu Mai (Pork & Prawn Dumplings) (6)
£4.80
Munchy Box
Including chicken balls (4), salt & pepper spare ribs (4), vegetable mini spring rolls (6), salt & pepper chips, salt & pepper chicken, egg fried rice & curry sauce
£13.00
Har Gow
Prawn dumplings (6)
£4.80
Deep Fried Crispy Wonton (10)
£4.70
Chicken Satay on Skewers (4)
£5.00
Deep Fried Crab Claws (4)
£4.20
Combo Platter
Including spare ribs (2), chicken wings (2), sesame prawn on toast (2), spring rolls (2), seaweed (1) & crispy Wonton
£7.50
Chicken Wings with Peking Sauce
£5.50
Crispy Aromatic Duck Half
Served with pancakes, spring onions, cucumber & hoisin sauce
£17.00
Crispy Aromatic Duck Quarter
Served with pancakes, spring onions, cucumber & hoisin sauce
£9.00
Crispy Aromatic Duck Whole
Served with pancakes, spring onions, cucumber & hoisin sauce
£32.00
Crispy Mini Spring Rolls (8)
£2.70
Sesame Prawn on Toast (6)
£4.70
Woo Tip Grilled Meat Dumplings (6)
£4.80
Chicken Wings with Honey Sauce
£5.50
BBQ'd Spare Ribs in Sauce
£5.80
Salt & Pepper Chicken Wings
£5.50
Salt & Pepper Shredded Chicken
£5.80
Sweet Smoked Shredded Chicken
£6.20
Salt & Pepper Chicken Balls
£5.60
Contact Us
Find Us
65-67 Norton Road, Stockton-On-Tees, TS182BZ
We deliver to
TS16, TS17, TS18, TS19, TS20, TS21, TS22, TS23