About Us
Rising Sun is a Chinese takeaway in Stockton-On-Tees. Why don't you try our Sweet & Sour or Thai Curry (Red)?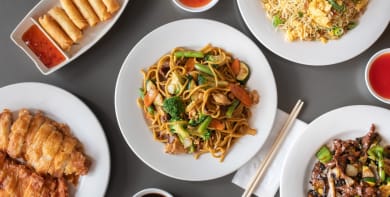 Reviews
443 reviews
elena
"King Prawn in ginger and spring onion, arrived on time, still steaming hot and tasted delicious. I would definitely recommend 😋"
18/07/2021
Andrew
"Always good quality food and service. We order weekly"
11/07/2021
Andrew
"Always good food and delivery. Recommended"
04/07/2021
Vicky
"Meal deal was superb King prawn fu you was perfect! Also added mushrooms at my request Highly recommend Thank you 👌"
29/06/2021
Menu
Crispy Aromatic Duck Quarter
Served with pancakes, spring onions, cucumber & hoisin sauce
£9.00
Crispy Aromatic Duck Half
Served with pancakes, spring onions, cucumber & hoisin sauce
£17.00
Crispy Aromatic Duck Whole
Served with pancakes, spring onions, cucumber & hoisin sauce
£32.00
Munchy Box
Including chicken balls (4), salt & pepper spare ribs (4), vegetable mini spring rolls (6), salt & pepper chips, salt & pepper chicken, egg fried rice & curry sauce
£13.50
Combo Platter
Including spare ribs (2), chicken wings (2), sesame prawn on toast (2), spring rolls (2), seaweed (1) & crispy Wonton
£7.50
Crispy Mini Spring Rolls (8)
£2.70
Sesame Prawn on Toast (6)
£4.70
Deep Fried Crispy Wonton (10)
£4.70
Deep Fried Crab Claws (4)
£4.20
Har Gow
Prawn dumplings (6)
£4.80
Siu Mai (Pork & Prawn Dumplings) (6)
£4.80
Woo Tip Grilled Meat Dumplings (6)
£4.80
Chicken Satay on Skewers (4)
£5.00
Chicken Wings with Peking Sauce
£5.50
Chicken Wings with Honey Sauce
£5.50
BBQ'd Spare Ribs in Sauce
£5.80
Salt & Pepper Chicken Wings
£5.50
Salt & Pepper Shredded Chicken
£5.80
Sweet Smoked Shredded Chicken
£6.20
Salt & Pepper Chicken Balls
£5.60
Vegetable Hot & Sour Soup
£2.60
Crab Meat & Sweetcorn Soup
£2.60
Chicken, Mushroom & Noodle Soup
£2.60
Fried Rice Mixed Vegetable
£5.70
Fried Rice Singapore (Hot)
£6.90
House Special Fried Rice
With king prawn, chicken, pork & beef
£6.70
Special Fried Rice
With chicken, pork & shrimp on top in BBQ sauce
£6.70
Chow Mein Singapore (Hot)
£6.90
House Special Chow Mein
With king prawn, chicken, pork & beef
£6.70
Special Chow Mein
With chicken, pork & shrimp on top in BBQ sauce
£6.70
Rice Noodle House Special
£6.70
Rice Noodle Singapore (Hot)
£6.90
Crispy Noodle Mixed Vegetables
£6.40
Crispy Noodle House Special
£7.40
Green Pepper & Black Bean Sauce Chow Mein Mixed Vegetables
£6.40
Green Pepper & Black Bean Sauce Chow Mein Beef
£6.90
Green Pepper & Black Bean Sauce Chow Mein Chicken
£6.90
Green Pepper & Black Bean Sauce Chow Mein Pork
£7.00
Green Pepper & Black Bean Sauce Chow Mein Duck
£7.40
Green Pepper & Black Bean Sauce Chow Mein House Special
£7.40
Green Pepper & Black Bean Sauce Chow Mein King Prawn
£7.40
Green Pepper & Black Bean Sauce Chow Mein Mixed Seafood
£7.80
Sweet & Sour Mixed Vegetables
Chicken, pork, king prawn & house special balls - comes with pineapples, onion, green peppers
£5.20
Sweet & Sour Chicken
Chicken, pork, king prawn & house special balls - comes with pineapples, onion, green peppers
£6.30
Sweet & Sour Chicken Balls
Chicken, pork, king prawn & house special balls - comes with pineapples, onion, green peppers
£6.30
Sweet & Sour Pork
Chicken, pork, king prawn & house special balls - comes with pineapples, onion, green peppers
£6.30
Sweet & Sour Pork Balls
Chicken, pork, king prawn & house special balls - comes with pineapples, onion, green peppers
£6.30
Sweet & Sour Beef
Chicken, pork, king prawn & house special balls - comes with pineapples, onion, green peppers
£6.40
Sweet & Sour Duck
Chicken, pork, king prawn & house special balls - comes with pineapples, onion, green peppers
£6.70
Sweet & Sour House Special
Chicken, pork, king prawn & house special balls - comes with pineapples, onion, green peppers
£6.70
Sweet & Sour House Special Balls
Chicken, pork, king prawn & house special balls - comes with pineapples, onion, green peppers
£6.70
Sweet & Sour King Prawn
Chicken, pork, king prawn & house special balls - comes with pineapples, onion, green peppers
£6.70
Sweet & Sour King Prawn Balls
Chicken, pork, king prawn & house special balls - comes with pineapples, onion, green peppers
£6.70
Egg Foo Yung Mixed Vegetables
£5.20
Egg Foo Yung Chicken & Ham
£6.30
Egg Foo Yung House Special
£6.70
Omelette Mixed Vegetables
£5.20
Bamboo Shoots & Water Chestnuts Chicken
£6.30
Bamboo Shoots & Water Chestnuts Roast Pork
£6.30
Bamboo Shoots & Water Chestnuts Beef
£6.40
Bamboo Shoots & Water Chestnuts House Special
£6.70
Bamboo Shoots & Water Chestnuts King Prawn
£6.70
Bamboo Shoots & Water Chestnuts Lamb
£6.70
Bamboo Shoots & Water Chestnuts Mussels
£6.70
Bamboo Shoots & Water Chestnuts Roast Duck
£6.70
Bamboo Shoots & Water Chestnuts Squid
£6.70
Bamboo Shoots & Water Chestnuts Mixed Seafood
£7.00
Green Pepper & Black Bean Sauce Chicken
£6.20
Green Pepper & Black Bean Sauce Roast Pork
£6.20
Green Pepper & Black Bean Sauce Beef
£6.40
Green Pepper & Black Bean Sauce House Special
£6.70
Green Pepper & Black Bean Sauce King Prawn
£6.70
Green Pepper & Black Bean Sauce Lamb
£6.70
Green Pepper & Black Bean Sauce Mussels
£6.70
Green Pepper & Black Bean Sauce Roast Duck
£6.70
Green Pepper & Black Bean Sauce Squid
£6.70
Green Pepper & Black Bean Sauce Mixed Seafood
£7.00
Black Pepper Sauce Chicken
£6.20
Black Pepper Sauce Roast Pork
£6.20
Black Pepper Sauce House Special
£6.70
Black Pepper Sauce King Prawn
£6.70
Black Pepper Sauce Mussels
£6.70
Black Pepper Sauce Roast Duck
£6.70
Black Pepper Sauce Mixed Seafood
£7.00
Oyster Sauce House Special
£6.70
Oyster Sauce Mixed Seafood
£7.00
Chilli & Garlic Sauce Chicken
£6.20
Chilli & Garlic Sauce Roast Pork
£6.20
Chilli & Garlic Sauce Beef
£6.40
Chilli & Garlic Sauce House Special
£6.70
Chilli & Garlic Sauce King Prawn
£6.70
Chilli & Garlic Sauce Lamb
£6.70
Chilli & Garlic Sauce Mussels
£6.70
Chilli & Garlic Sauce Roast Duck
£6.70
Chilli & Garlic Sauce Squid
£6.70
Chilli & Garlic Sauce Mixed Seafood
£7.00
Ginger & Spring Onion Chicken
£6.20
Ginger & Spring Onion Roast Pork
£6.20
Ginger & Spring Onion Beef
£6.40
Ginger & Spring Onion House Special
£6.70
Ginger & Spring Onion King Prawn
£6.70
Ginger & Spring Onion Lamb
£6.70
Ginger & Spring Onion Mussels
£6.70
Ginger & Spring Onion Roast Duck
£6.70
Ginger & Spring Onion Squid
£6.70
Ginger & Spring Onion Mixed Seafood
£7.00
Hoisin Sauce House Special
£6.70
Hoisin Sauce Mixed Seafood
£7.00
Thai Curry (Red) House Special
£6.70
Thai Curry (Red) King Prawn
£6.70
Thai Curry (Green) Chicken
£6.20
Thai Curry (Green) House Special
£6.70
Thai Curry (Green) King Prawn
£6.70
Roast Duck in Orange Sauce
£6.80
Roast Duck with Pineapple
£6.80
Roast Duck with Chinese Mushroom
£6.80
Roast Pork with BBQ Sauce
£6.40
Chicken with Mixed Vegetable
£6.40
Chicken with Garlic Sauce
£6.40
Crispy Shredded Chicken with Chilli
£6.30
Deep Fried Chicken with Chilli Honey Sauce
£6.30
Crispy Shredded Chicken with Peking Sauce
£6.30
Crispy Shredded Beef with Chilli
£6.40
Crispy Shredded Beef with Peking Sauce
£6.40
Beef with Chinese Mushroom
£6.40
Crispy Shredded Chicken with Chilli Honey Sauce
£6.30
Deep Fried Chicken with Chilli
£6.30
Deep Fried Chicken Battered Garlic
£5.50
Deep Fried Pork Battered Garlic
£5.50
Deep Fried Shredded Chicken Battered Garlic
£5.60
Deep Fried Shredded Beef Battered Garlic
£5.60
Deep Fried Tofu Battered Garlic
£5.20
King Prawn Battered Garlic
£6.00
House Special Battered Garlic
£6.00
Deep Fried Chicken with Crispy Seaweed
£5.50
Deep Fried Pork with Crispy Seaweed
£5.50
Deep Fried Tofu with Crispy Seaweed
£5.20
Deep Fried Shredded Beef with Crispy Seaweed
£5.50
Deep Fried Shredded Chicken with Crispy Seaweed
£5.50
Deep Fried King Prawn with Crispy Seaweed
£5.80
Deep Fried House Special with Crispy Seaweed
£5.80
Deep Fried Squid with Crispy Seaweed
£5.70
Mixed Vegetable Peking Sauce
£5.30
Mixed Vegetable with Szechuan Sauce
£5.30
Mixed Vegetable Kung Po Sauce
£5.30
Vegetable Chicken with Green Pepper
In black bean sauce
£5.80
Vegetable Duck with Broccoli
£6.30
Mixed Vegetable in Oyster Sauce
£5.30
Mushroom with Green Pepper in Black Bean Sauce
£5.40
Stir Fried Mixed Vegetable
£5.40
Bean Curd Choice of Sauce
With black pepper sauce, szechuan sauce, satay sauce, peking sauce, spicy sauce, green pepper in black bean sauce
£6.00
Sirloin Steak
Served with onion & mushroom
£7.50
Mixed Grill Steak
Served with sausage, pork liver, bacon, mushroom, onion & peas in gravy
£8.00
Roast Chicken
Served with mushroom, onion & peas in gravy
£6.20
Sausage & Chips
Served with mushroom & onion in gravy
£5.00
Grilled Liver
Served with mushroom & onion in gravy
£5.40
Roast Chicken, Bacon & Sausage
£7.00
Plain Chow Mein
No vegetable
£3.60
Plain Rice Noodles
No vegetable
£3.60
Chips & Fried Rice in Any Sauce
£3.60
Chips with Mushroom & Onion in Any Sauce
£3.80
Egg Fried Rice with Mushroom & Onion
In any sauce
£4.10
Egg Fried Rice with Noodles in Any Sauce
£4.10
Fried Mushroom in Gravy Sauce
£2.90
Fried Rice, Chips & Chicken Balls
£6.50
Fried Rice, Noodles & Chicken Balls
£6.70
Set Meal For 1 Regular
Soup:
Chicken noodle soup or chicken sweetcorn soup or chicken mushroom soup
Appetiser:
Prawn on toast (2) or barbecued ribs (2) or spring rolls (2)
Main course:
Chicken, beef or pork dishes
(Except fillet steak or sirloin steak)
(Served with egg fried rice OR crispy fried rice for extra £1.00
£9.50
Set Meal For 1 Duck
Soup:
Chicken noodle soup or chicken sweetcorn soup or chicken mushroom soup
Appetiser:
Prawn on toast (2) or barbecued ribs (2) or spring rolls (2)
Main course:
Chicken, beef or pork dishes
(Except fillet steak or sirloin steak)
(Served with egg fried rice OR crispy fried rice for extra £1.00
£10.50
Set Meal For 1 King Prawn
Soup:
Chicken noodle soup or chicken sweetcorn soup or chicken mushroom soup
Appetiser:
Prawn on toast (2) or barbecued ribs (2) or spring rolls (2)
Main course:
Chicken, beef or pork dishes
(Except fillet steak or sirloin steak)
(Served with egg fried rice OR crispy fried rice for extra £1.00
£10.50
Set Meal For 1 Mixed Meat
Soup:
Chicken noodle soup or chicken sweetcorn soup or chicken mushroom soup
Appetiser:
Prawn on toast (2) or barbecued ribs (2) or spring rolls (2)
Main course:
Chicken, beef or pork dishes
(Except fillet steak or sirloin steak)
(Served with egg fried rice OR crispy fried rice for extra £1.00
£10.50
Set Meal For 1 Special
Soup:
Chicken noodle soup or chicken sweetcorn soup or chicken mushroom soup
Appetiser:
Prawn on toast (2) or barbecued ribs (2) or spring rolls (2)
Main course:
Chicken, beef or pork dishes
(Except fillet steak or sirloin steak)
(Served with egg fried rice OR crispy fried rice for extra £1.00
£10.50
Set Meal For 2
Spring roll
Chicken sweetcorn soup
Deep fried Wonton (with sweet & sour sauce)
Shredded beef in chilli sauce
Sweet & sour chicken (Cantonese style)
Egg fried rice
Banana fritter
£19.00
Set Meal For 3
Spring roll
Deep fried Wonton (with sweet & sour sauce)
Chicken & sweetcorn soup
Shredded beef in chilli sauce
Sweet & sour chicken (Cantonese style)
King prawn with green pepper in black bean sauce
Egg fried rice
Banana fritter
£28.00
Set Meal For 4
Spring roll
Deep fried wonton (with sweet & sour sauce)
Chicken & sweetcorn soup
Quarter aromatic duck
Shredded beef in chilli sauce
Sweet & sour chicken (Cantonese style)
Kung po beef
King prawn with green pepper in black bean sauce
Egg fried rice
Banana fritter
£39.00
Contact Us
Find Us
65-67 Norton Road, Stockton-On-Tees, TS182BZ
We deliver to
TS16, TS17, TS18, TS19, TS20, TS21, TS22, TS23